Ally​ Security Incident Management by Motorola Solutions
Enhance And Simplify Your Security Operations With Ally
Ally streamlines security operations with an integrated, cloud-based platform. Through ease of use and immediate access, Ally connects your teams to all incident, dispatch and analytics information with the devices you use today.
Security is a big deal. You need to have up-to-date information at a moment's notice. But it's also hard to keep track of all the different pieces of information you need to manage your security program. You have lots of data stored in multiple places, and some of that data may be inaccurate or out-of-date. To make matters worse, if you want to share this information with someone else, like a colleague or partner, there's no easy way to do so—at least not without manually copying and pasting everything into an email or document.

Ally Security Platform provides built-in reports that help improve situational awareness and identify trends over time, as well as an easy way for users at different levels within an organization—including nontechnical staff members such as end users or HR personnel—to report incidents without having access or knowledge of complex technology. Ally also allows you to monitor a wide range of devices across multiple locations in real time for faster response times and better incident investigation capabilities—helping you proactively prevent attacks before they happen by identifying risks based on your unique organization profile.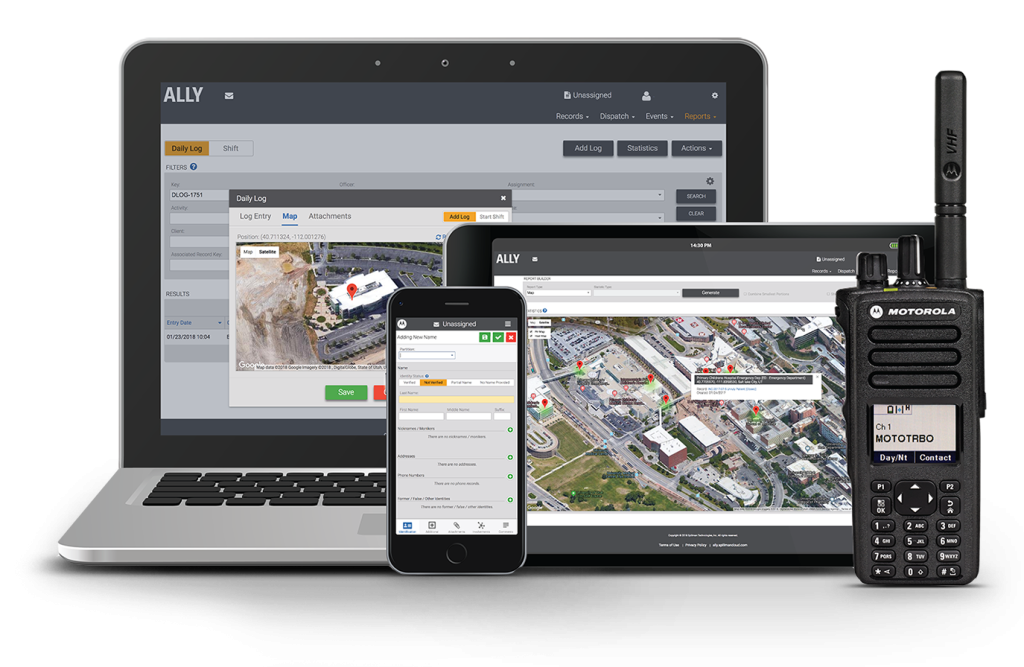 Motorola Ally System Key Features
Motorola Solutions digital radios are designed to the highest specifications both inside and out. With outstanding range, battery life, and responsiveness, your team can communicate more effectively, work more efficiently, and increase safety on your site.
EASY TO LEARN, EASY TO USE, EASY TO ACCESS
Depending on the size of your organization, Ally can be implemented and ready to use in as little as three hours. Train employees online in as little as one hour even if they have little or no software experience. The user-friendly design is easy to navigate, and its mobile responsive nature makes using Ally a smooth experience on any internet-enabled device.
EASY, ACCURATE REPORTING FOR IMPROVED INSIGHTS
Enhance decision-making through embedded analytics and reports for fast trend analysis, proactive security planning, and reduced liability. Customizable fields help you efficiently collect data and complete accurate reports with the data you need. Daily activity reports and other built-in analytics easily summarize the data in your system to identify trends, adjust responses, and report to stakeholders.
INSTANT COMMUNICATION ACROSS DEVICES
Connect your team with fast, secure, and reliable voice communication and information sharing across workstations, smartphones, and radios. Equip field personnel with push-to-talk voice communication at the touch of a button using the devices and networks you prefer: MOTOTRBO professional two-way radio, WAVE two-way radio, smartphone, or tablet. Dispatchers and administrators can also see where resources are located in real-time, improving response time and increasing efficiency.
EFFICIENT MASS NOTIFICATION
Organizations of every size have a need to notify endangered parties in the event of an emergency such as hazardous material, inclement weather, or an active shooter. Ally's mass notification capabilities get the critical information to the right people quickly and accurately. By using the same security software for your incident management and your mass notification, you save money and streamline your critical operations.