Partnerships Built On Trust And Results For Over 30 Years.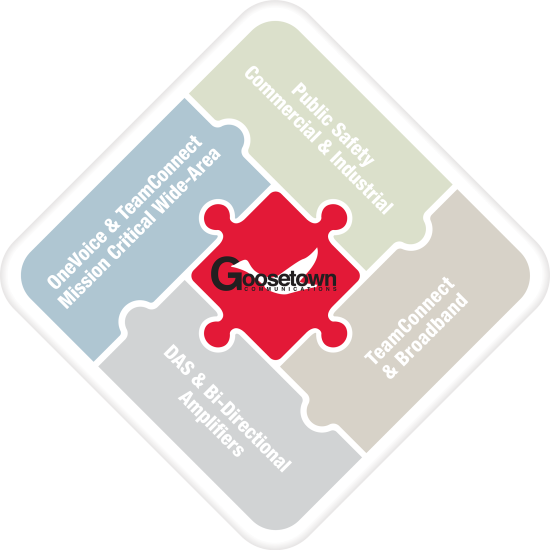 Since 1990, Goosetown has been working with public safety agencies, communities and businesses across New York, New Jersey, Connecticut, Massachusetts, and Rhode Island to enhance their communications, security, and productivity. We design, install, and maintain integrated voice, data and security solutions across locations, technologies, and networks.
Goosetown is the nickname for the Village of Upper Nyack, where the company started. Today, with over 75 employees Goosetown services the Northeast from three locations, including Bloomfield and Guilford, CT and Congers, NY. Our team is experienced, trained, and certified in multiple areas of communications and security solutions.
Beyond our 30 years of experience, industry knowledge and innovative solutions, what makes Goosetown unique is the pride we take in providing the best customer service in the industry. We do not just say we put our customers first; we live it every day by going above and beyond to ensure their satisfaction. We work with all our customers to identify their unique voice, data, and security requirements, and then we design, install, optimize, and manage their solutions to meet and exceed their expectations.
For Over 30 Years, Goosetown Communications has built its reputation by delivering proven results and earning the underlying trust of our customers.
Goosetown is the premier, wide-area, unlimited airtime, Motorola MOTOTRBO™ JVC Kenwood Two-Way Radio push-to-talk communications provider with the largest coverage area in New York and the Northeastern US.
Free Radio Selector
Not Sure Which Two-Way Radio is Right for Your New York Business, Enterprise or Government Agency? Try Our Free Selector and Find Out!
Proven Track Record of Excellence and Customer Service
With so many choices, finding a reliable telecom partner can be difficult. Goosetown Communications is an experienced, knowledgeable and innovative company that provides the best customer service in the industry. We don't just say we care about our customers; we prove it by going above and beyond to ensure their satisfaction.
Our services are designed with your operations needs in mind. We offer a wide range of solutions designed around your specific needs. Goosetown Communications has a team of technical experts in industrial telecommunications solutions that put in the time and effort to give you exemplary solutions and service from start to finish. In addition, all our systems feature the latest technology so they're reliable even when things get hectic on site. We'll help you choose the right system for your operation so it will save you time while boosting productivity and safety.
Through our partnerships with Motorola, Kenwood, AT&T, and OneVoice Networks, we're able to offer a wide range of solutions to meet the unique communications requirements of your business. Goosetown Communications offers full-service communications solutions, specializing in wireless communications for businesses and government. We also offer a wide range of services designed to help businesses save money while ensuring their communications needs are met. Our services include:
Radio rental
Wide area radio system
Maintenance agreements
Service contracts
Goosetown is proud to introduce a new service—TeamConnect—a nationwide push-to-talk (PTT) over LTE network. TeamConnect allows businesses and government agencies to use push-to-talk capabilities over mobile networks to communicate over great distances through mobile phone apps or via rugged LTE radios.
Why choose Goosetown Communications:
There are plenty of companies out there competing for your business. What makes Goosetown stand out from the competition? We are committed to creating safer, more productive communities, and this belief is at the heart of everything we do. We work with businesses to identify your unique communications needs and challenges, and then we create a system to meet those specific needs. Whether your people work from the cab of a truck, in a control room, or in a board room in another state, we connect them all, so that everyone is always operating on the same page.
More importantly, we're constantly striving to adopt the latest communications technologies. This allows us to offer cutting-edge communications solutions that keep your business relevant and competitive. One thing you won't find anywhere else is the passion and commitment the staff at Goosetown Communications brings to the table on every project we tackle. We care about our customers, the people who work for us, and the reputation of our business. Every move we make is to benefit all three.
Goosetown Communications Industry Partners
Telecommunication Solutions From Trusted Technology Manufacturers
Goosetown Communications is the leading provider of wireless solutions for organizations in the Northeastern US. At Goosetown Communications, we pride ourselves on high-performance, robust telecom solutions from our leading industry partners. Our customers need dependable and innovative systems that support their business goals while improving efficiency, productivity, safety and collaboration among employees across multiple locations.
Goosetown Communications offers an extensive portfolio of products from our leading technology partners including video surveillance systems from Avigilon; rugged Motorola digital radio communication solutions; Avtec IP based dispatch consoles; vehicle tracking systems with GPS fleet management tools and more. Our team of experts will work with you to determine the best product for your business.