Improve Safety and Productivity with Distributed Antenna Systems and Bi-Directional Amplifiers
providing In-Building Connectivity in the moments that matter most
The Complexities Of In-Building Coverage Solutions
At Goosetown we understand the mission and operational-critical complexities of being able to reliably transmit and receive two-way radio and cellular frequencies within a facility, even the hard-to-reach areas. Enhancing in-building coverage is no longer just a convenience for supporting your tenants' wireless technologies, in most counties today Public Safety-DAS (PS-DAS) is a local requirement by the FCC, IFC and NFPA mandating that first responders have two-way radio coverage throughout a faciality even in stairwells, elevators, basements, electrical closets and parking garages.
As a business with over 30 years' experience designing, deploying and maintaining complex two-way radio systems for some of the Northeast's most prominent public safety agencies, Goosetown's engineers understand the latest challenges and limitations of today's wireless frequencies.

At Goosetown Communications we will work with you to assess, design and deploy a customized solution to meet your needs and keep you compliant. Our systems are designed by our level III iBwave certified engineers to provide maximum coverage throughout your property, minimizing dead zones and maximizing connectivity.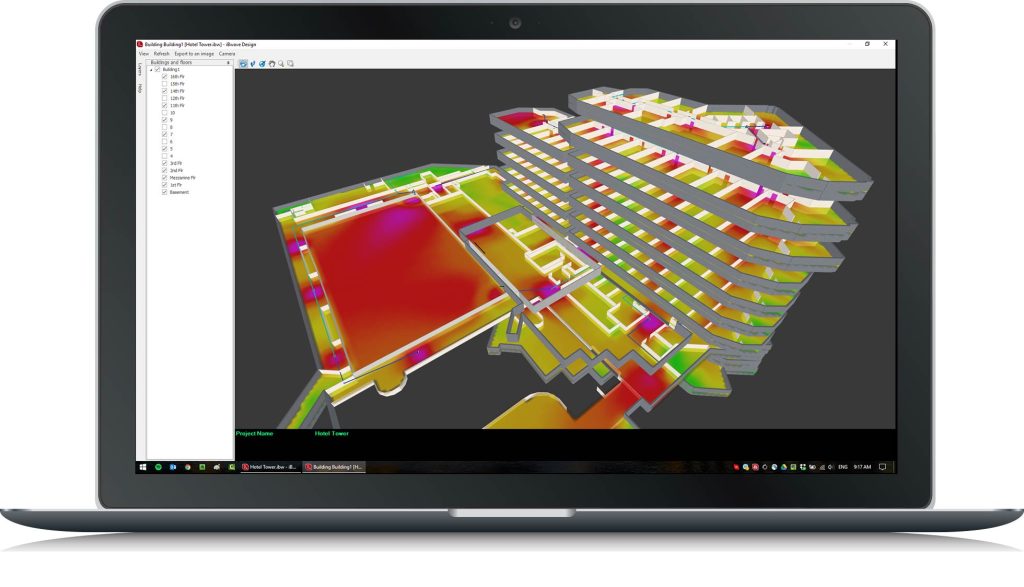 Essential Components for Enhancing In-Building Coverage
Bi-Directional Amplifiers (BDA), which are essentially signal boosters
Distributed Antenna Systems (DAS)
To effectively overcome dead zones, we routinely deploy both DAS and BDA components to enhance RF or cellular frequencies and to eliminate dead zones. Used together, these systems can improve communications over large complexes, including:
Shopping malls
Convention centers
Schools and universities
Corporate campuses
Hospitals and medical centers
Recreation centers
Large office buildings
Manufacturing plants
Hotels
Casinos
Essentially any building or indoor location where two-way radios or cellular devices are used for communication and connectivity is compromised, these locations are ideal candidates for this type of enhanced inbuilding coverage.
Frequently, when facilities make renovations or improvements to the structure such as new additions, LEED replacement windows, structural enhancements or obstacles that may interfere with the building's antennas and nearby cellular or radio towers, these improvements can impact the structures' in-building coverage. Today, most communities have instituted annual certifications to ensure local first responders' coverage will not be compromised and they will always have connectivity when they need it most.
Goosetown Communications is an industry leader when it comes to designing, deploying and managing in-building solutions for businesses, institutions and government agencies throughout the Northeast. Let us work with you to customize a solution that meets the needs of your organization without breaking your budget. We operate out of three locations to better serve you, so you can expect prompt service and fast installations once we start your project.
Contact Goosetown Communications today to learn more about our enhanced in-building coverage solutions and how we can help you do more with your resources by building a better communications network for your entire organization. We also offer maintenance and annual service agreements, so you can eliminate the worry that your cellular or radio networks are operating at optimal efficiency and that your Public Safety – DAS is annually compliant.
Enhancing your in-building coverage allows organizations to enjoy better two-way radio, cellular, and public safety radio communications.
We believe in helping organizations improve safety and productivity through enhancements to your communications networks and have 30 years of experience delivering impressive results for mission and operational-critical communications across all agencies and industries.