Protect People, Property and Assets with Avigilon Video Surveillance
Goosetown's Video Surveillance Solutions Answer Your Security Needs
Safety, and security including acts of violence, theft, vandalism, are all too often challenges schools, businesses and communities face every day. While many facilities, campuses and municipalities rely on security cameras to protect their people and assets, issues with image quality, the inability to quickly search stored footage, and human error can compromise the integrity of these video solutions.
Goosetown Communications, in partnership with Avigilon, a Motorola Solutions company; can help you capture, find, and share critical intelligence faster, allowing you to respond to events with the speed and the situational awareness needed to keep people, operations and assets safe through our end-to-end video surveillance solutions.
Goosetown can engineer, deploy, and maintain a high-definition Avigilon video solution to address the unique safety and security requirements to meet mission-critical or business-critical applications. With a complete line of cameras to choose from including, PTZ, dome, multisensory, thermal, fish-eye and high-res to name a few, Avigilon cameras provide the level of image detail you require. Goosetown can uniquely design and integrate a video surveillance solution that provides interoperable capabilities, such as triggered voice or text alerts over your two-way radios.
When you leverage Avigilon's high-definition video technology, the efficient use of these security resources ultimately provides customers with a better TCO over other technologies. Powered by advanced Artificial Intelligence (AI) and video analytics the Avigilon technology is simple and easy to use. Avigilon's Access Control (ACC), Video Management Software (VMS), and cloud services seamlessly integrates the entire video security system to provide the right information at the right time, so decisive action can be taken.
Avigilon Video Camera Features
Schools, enterprises, municipalities, and local public safety agencies are all looking for reliable and clear video footage to protect their communities, business, people, and assets. Some issues experienced with existing CCTV systems are poor video quality and coverage, no ability to efficiently search captured video footage for people or objects, and not having access on a centralized security platform.
Goosetown Communications in partnership with Avigilon, have a robust and future-facing security camera systems to protect your people and facilities. Avigilon is the world's leading provider of intelligent video management systems, they offer an end-to-end solution that includes high-quality cameras, with features such as automatic IR beam, integrated audio capabilities, advanced facial recognition, explosion, and high temperature cameras for all environments. With Goosetown Communications and Avigilon you can be confident knowing your employees and assets are always safe.
Avigilon Network Video Recorders
To keep your business secure, you need a high-performance security solution that can be scalable to meet your needs, as your business grows. Traditional surveillance systems can be complicated and out-of-date before they are even installed. And, it is hard to get an accurate picture of what's really going on when you have hundreds of hours of video footage sitting on servers collecting dust.
Avigilon Network Video Recorders offer clear advantages over legacy DVRs—including higher recording capacity, more storage options and greater flexibility for future upgrades. It also provides advanced features like Appearance Search technology which enables users to search for people based on their clothing or other identifying characteristics. With these benefits, an Avigilon Network Video Recorder ensures that your team has the right tools necessary to stay vigilant about threats while maintaining peace of mind for everyone.
Capture Moments of Truth for a Safer, More Peaceful World
i-PRO Americas, Inc. was established by Panasonic as an independent company to provide comprehensive IP and analog video surveillance, video management, access control system solutions combining best-in-class hardware, management software and AI-driven analytics for municipal and enterprise applications.
Goosetown Communications partners with i-PRO because of their ability to deliver innovative end-to-end security cameras and surveillance solutions that enhance the capability to capture, analyze and preserve the underlying truths of video documentation. Goosetown and i-Pro share a common goal to be your trusted partner in delivering safe, secure, and productive environments.
i-PRO surveillance cameras are recognized around the world for their outstanding imaging performance, even in the most demanding lighting conditions and environments. i-Pro camera types include PTZ, multi-sensor, dome, bullet, 360 and analog.
In addition to world-class cameras, i-Pro's Insight Video Management Software (VMS) is a powerful yet easy-to-use enterprise Video Management System. The new plug-in architecture allows users to expand the functionality of their surveillance system with features such as facial recognition, vehicle tracking and vehicle recording, License Plate Recognition (LPR), and more. The Artificial Intelligence-Video Motion Detection (AI-VMD) software extension from i-Pro is included on all X-series cameras.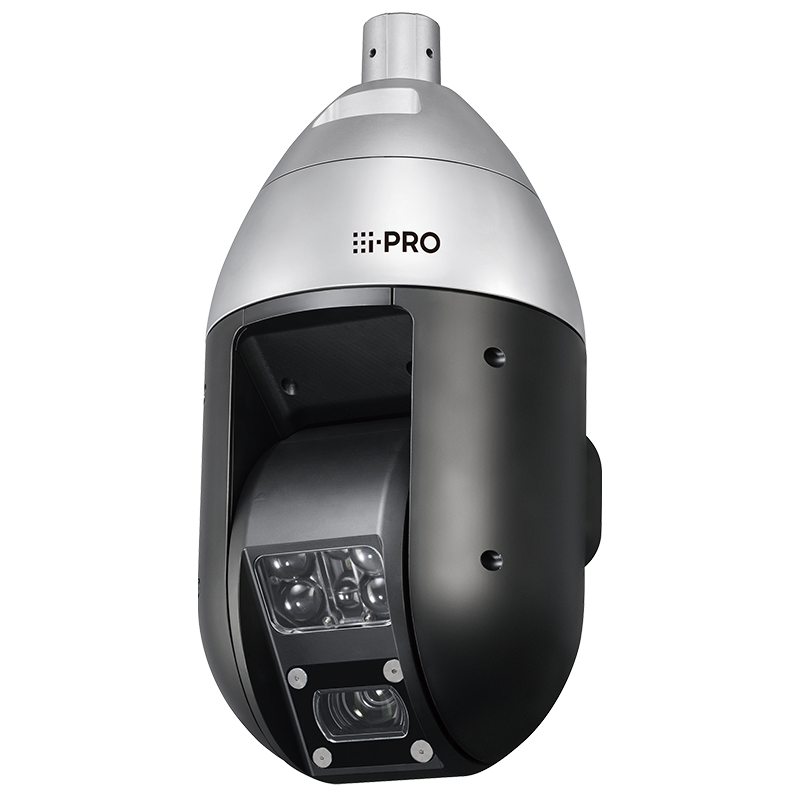 The Artificial Intelligence (AI) differentiates between vehicles, motorcycles, bicycles, and humans. This AI software detects and sends alarms or warning notifications when a specified area is breached, people loiter or an unusual or foreign object is detected.
Leonardo is a leading provider of automatic number plate reader (ANPR) hardware and software.
Goosetown Communications trusts Leonardo for License Plate Recognition (LPR) because for over 20 years they have been pioneering license plate recognition technology and pushing the boundaries of capabilities to new levels to support public safety and security, worldwide.
Leonardo's ecosystem of ELSAG® license plate reader systems are based on fixed and mobile ALPR cameras combined with proprietary software. Leonardo's portfolio of ELSAG LPR technologies includes fixed, mobile, and custom systems that are accurate, reliable, and proven to increase productivity.
Working together with Leonardo, Goosetown helps customers stay ahead of vehicle-related crime by deploying LPR solutions that respond to the rapidly changing demands of law enforcement, governments, security companies, parking authorities, and large enterprises change.
All of Leonardo's ELSAG LPR solutions can be integrated with the smartest, most robust data management and analysis software system available, the ELSAG Enterprise Operations Center™. Leonardo offers two fixed license plate reader systems:
ELSAG® Fixed Plate Hunter™
The ELSAG Fixed Plate Hunter is Leonardo's traditional stationary license plate reader system that features sophisticated technology for critical infrastructure protection, criminal investigations involving vehicles and traffic management. Ideal for highways, tunnels, overpasses, and access control the Fixed Plate Hunter also determines a vehicle's speed, providing valuable data to identify traffic patterns and traffic anomalies, such as jams, stationary vehicles on open traffic lanes and other dangerous occurrences.
The Fixed Plate Hunter:
Collected data can be stored on a server for future analysis tin aiding investigations
Reads plates 24/7 in any type of weather
Captures plates across multiple lanes of traffic
The ELSAG® Street Sentry™
The new ELSAG® Street Sentry™ is Leonardo's most compact, easy to deploy and most affordable LPR system. The Street Sentry reader is ideal for city and neighborhood streets and uses the same powerful Optical Character Recognition engine that law enforcement has relied on for decades. The Street Sentry is a stationary LPR that economically aids law enforcement with real-time vehicle interdiction and investigations. 
The Street Sentry:
Purpose-built high-quality camera, housing and solar panel designed to withstand inclement weather.
Pole-mounted LPR needs no additional power source. 
Accessible to every agency with purchase or finance options.
Flexible data management and storage with optional servers to upload.
Highly effective at identifying suspect vehicles with a single unit or multiple installations.