Reliable & Secure Connectivity When You Need It
Goosetown Communications turns to Cradlepoint's wireless edge solutions to connect our mission-critical voice network. Learn how we can help you connect people, places, and things with 5G and LTE through wireless WAN and private network solutions. For public safety personnel on the frontline, wireless connectivity is a life-line. They rely on fast and always-on access to critical applications and data to perform their mission-critical services, whether in a vehicle, at the station, or in the field.
For enterprise applications, Cradlepoint's wireless solutions are ideal if you have multiple locations, a fleet of vehicles, need to implement IoT solutions, or need to connect remote workers with reliable, secure, and agile connectivity.
Today's 5G and LTE wireless WAN and private cellular solutions enable new ways to work and provide remote workers with the freedom to enhanced productivity and improved business results. Cradlepoint's wireless solutions offer the flexibility to embrace new ways of doing business anywhere, and to allow users to always put their best network forward.
Working together with Cradlepoint's edge solutions, Goosetown can provide the scalability required by fast-moving businesses and public safety agencies with their wireless connectivity transformation.
Product Feature | Cradlepoint NetCloud
Cradlepoint's NetCloud Service and wireless routers unlock the power of LTE and 5G for a variety of applications including:
Connecting Sites: Enable any combination of wired or wireless connectivity to LTE and 5G solutions for hybrid WAN and failover for fixed applications, as well as for temporary, and pop-up locations.
Vehicles: Optimize mobile broadband and Wi-Fi across connected fleets of any size, enabling 24×7 access no matter their location.
IoT: Use reliable, agile cellular IoT connectivity to leverage the potential of edge data with expedited deployments and unfettered innovation.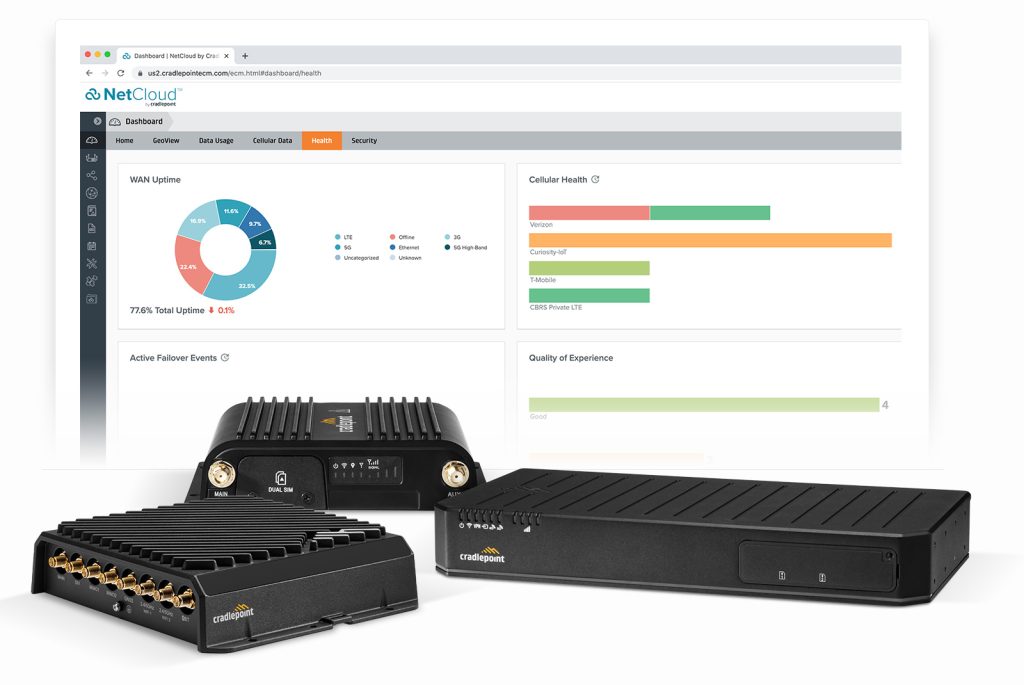 Remote Works: Enable remote workers with reliable dedicated connectivity through routers that the IT team can control from anywhere.
Dual SIM or Dual Modem: Solutions can include connectivity from AT&T or customer supplied SIMS or both. Models can be configured to operate at dual SIM or dual modem to provide unparalleled reliability for remote applications.
Goosetown Communications Allows You to Embrace Wireless WAN and Private Network Solutions with Cradlepoint's Unmatched Agility and Reach