Digital Two-Way Radio Communications Solution Partners for Business, Enterprise and Government Agencies in the Northeast US
Goosetown is the premier, wide-area, unlimited airtime, Motorola MOTOTRBO™ JVC Kenwood Two-Way Radio push-to-talk communications provider with the largest coverage area in the Northeast.
As part of our commitment to create safer, more productive communities, Goosetown Communications has forged invaluable partnerships to bring your business or community the most advanced, state of the art, communications tools, systems, and services. These partnerships have shaped the company we've become and reflect our core values.
Free Radio Selector
Not Sure Which Two-Way Radio is Right for Your New York Business, Enterprise or Government Agency? Try Our Free Selector and Find Out!

AT&T Platinum Solutions Provider
Through our relationship with AT&T as a Platinum Solution Provider, we can work with AT&T to provide our customers wider access to products and services. Our partnership with AT&T allows us to help you stay connected, protect your employees and technology, and mobilize your workforce while improving ease of communication. Goosetown Communications is proud of our partnership with AT&T and is a prime example of our commitment to our customers in action.

Motorola Solutions Channel Partner
Selecting The Right Partner Makes All the Difference
Goosetown Communications is a Motorola Solutions Channel Partner. This means we go through extensive and continued training, education, and testing to ensure we are up to the task of working on all Motorola products and equipment.
For our customers, this means our technicians are experts in troubleshooting and repairing their Motorola radios and systems. It offers peace of mind and confidence that we will solve your communications problems quickly, so you can get back to what you do best at optimal efficiency.
Whether you operate a manufacturing plant or you're responsible for the communications needs of your city's fire, EMS, and police services, our partnership with Motorola allows us to provide you with the most advanced communications solutions and tools to meet your needs.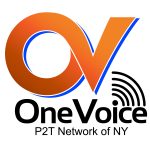 As proud partners of OneVoice push-to-talk (PTT), Goosetown Communications is able to offer robust communications solutions that are scalable to meet the needs of small, locally operated organizations as well as large-scale organizations operating across the Northeast. This partnership allows us to serve many industries, including:
Towing
Education
Construction
Utilities
Public Works
And many more
Why Goosetown Communications?
Because we've joined with highly reputable partners in the wireless world, you can partner with Goosetown Communications with confidence. These partnerships allow us to serve your needs better by increasing the services and products we have available to you. We offer any organization the ability to communicate with people in the same building or across the country, with reliable service from our dedicated and highly trained technicians.
Goosetown Communications has been serving the communications needs of businesses and agencies throughout the Northeast U.S. since 1990. We've worked hard to develop a reputation as industry leaders for communications solutions and continue to do so by adopting cutting-edge technology and providing consistent, reliable, and exceptional service. Contact us today with all your communications concerns, questions, and needs.